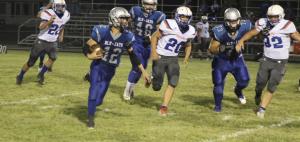 The Pleasanton football team was back in action this past week as they hosted Marais des Cygnes Valley (MDCV) on Sept. 15.
The Blu-Jays lost their season opener to St. Paul and then did not have a game on Sept. 8. The Blu-Jays' second game started well as Kaden McKee took the opening kickoff 65 yards for a touchdown. The two point conversion was no good and the Jays were up 6-0.
MDCV had problems holding onto the ball all game and this showed up early as Nate Miller recovered a MDCV fumble on the Pleasanton 31-yard-line.
To see the full article, check out this week's edition of the Linn County News or check out the online version here.
SPORTS

Despite Burlington scoring a touchdown 14 seconds before halftime, prospects appeared bright for Prairie View last Friday. The hosts, however, maintained that pre-halftime momentum shift, scoring two second-half touchdowns while holding Prairie View scoreless, to claim a 40-26... [More]

The Jayhawk volleyball team traveled to Erie on Sept. 16 to compete in the Erie Invitational. It was a tough tournament with good opponents and the Hawks went 0-4 in the tournament. "We struggled at Erie, however we were outmatched by much bigger schools. I hate losing,... [More]
More Sports
NEWS

Any official action to proceed with inspection reports on a house condemnation candidate in Parker was tabled at last Thursday's monthly City Council meeting. Records indicate that the owners of a structure located south of the Center Street railroad crossing are deceased,... [More]

MOUND CITY – (Sept. 15, 2017) – A La Cygne man was convicted Thursday, Sept. 14, of aggravated assault and battery of a law enforcement officer, Kansas Attorney General Derek Schmidt said. John Edward Teters, 55, pleaded guilty to one count of aggravated assault... [More]

Linn County Commissioners Monday awarded a bid for a radio communications tower. By a unanimous vote, Hayden Tower Service, Topeka, will erect the 250-foot structure at a base price of $216,500. Chris Martin, county information technology (IT) director, recommended... [More]
More News
COMMUNITY

A few facts... • Up to 80 workers each day. There are 18 contractors under Nabholz continuing work on the school. The work during the day is done primarily outside while any work that is done on the inside is limited to areas where students will not be or from 3 p.m.-11... [More]

A beginner beekeeping class hosted by the Golden Prairie Beekeeping Club is set for Nov. 4-5 in Garnett at Community Building No. 1 at the fairgrounds. Featured speakers for the event are Steve and Becky Tipton, Chad Gilliland, Todd Preator and Jon Chitwood. The Tiptons will... [More]

The Fairview School was located about five miles southeast of Pleasanton. Merna Livingston was the teacher. The school was heated by a coal stove sitting in the middle of the room. The desks were double desks, which could seat two students. Water was from cistern and there was... [More]
More Community