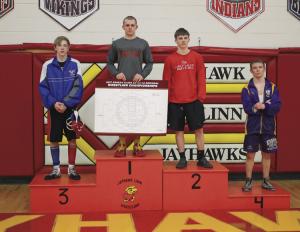 The Jayhawk wrestling team hosted the 3A-1A Regionals on Feb. 17-18. The Hawks qualified two wrestlers for State Tournament in Trevor Compton and Grant Cunningham by them placing in the top four.
The Hawks placed 12th out of 24 teams with 55 points. Douglas won the tournament with 146 points.
To see the full article, check out this week's edition of the Linn County News or check out the online version here.
SPORTS

The Prairie View wrestling team traveled to Frontenac on Feb. 17-18 to compete in one of the 4A Regionals to determine who went to the State Tournament. The Buffalos did exceptionally well as they placed first in the tournament and qualified eight wrestlers for state. The top... [More]

Pleasanton High School celebrated their Courtwarming on Feb. 17 as they hosted the Marmaton Valley Wildcats. Both the girls' and boys' teams did well as the girls won 24-21 and the boys won 62-35. To see the full article, check out this week's edition of the Linn... [More]
More Sports
NEWS

La Cygne will use up to $14,000 of a Linn County infrastructure grant to pave Lincoln Street and will apply the remainder of the total $54,279 toward its sanitary sewer system. By passing their plan on a 4-0 vote at their regular City Council meeting last Wednesday, Feb. 15,... [More]

Speed and weight limits will be temporarily posted on two gravel roads northeast of Parker. That resolution, caused by Miami County's closure for Middle Creek bridge replacement on Plum Creek Road south of 403rd Street, was among road related issues dominating the Linn... [More]

Nov. 7 ballot measure seeks to divert from sewer only revenue Parker will ask its voters at the Nov. 7 general election to change the recipient fund of its 1-cent city sales tax. That process of ballot inclusion began at last Thursday night's City Council meeting with... [More]
More News
COMMUNITY

Six months ago Roger Bilyeu purchased the bar that sits on the eastern edge of La Cygne, which originally was the Outpost Bar and Grill and it became Blues Bar & Grill. Since then Bilyeu has been making a lot of changes to the building, the menu and the atmosphere itself.... [More]

In the middle of La Cygne's downtown area sits a brand new shop filled with curiosities. Roosters Collectables, owned and operated by Bobby Lawson, opened near the end of December, and Lawson says business gets better by the day. Lawson opened the shop in honor of his... [More]
Prairie View's secondary-level vocal music instructor will be honored with a presentation at the school Friday night. Dawn Burhart will receive the Kansas State High School Activities Association (KSHSAA) 2017 "Heart of the Arts Award" sometime after 6:30 p.m.... [More]
More Community